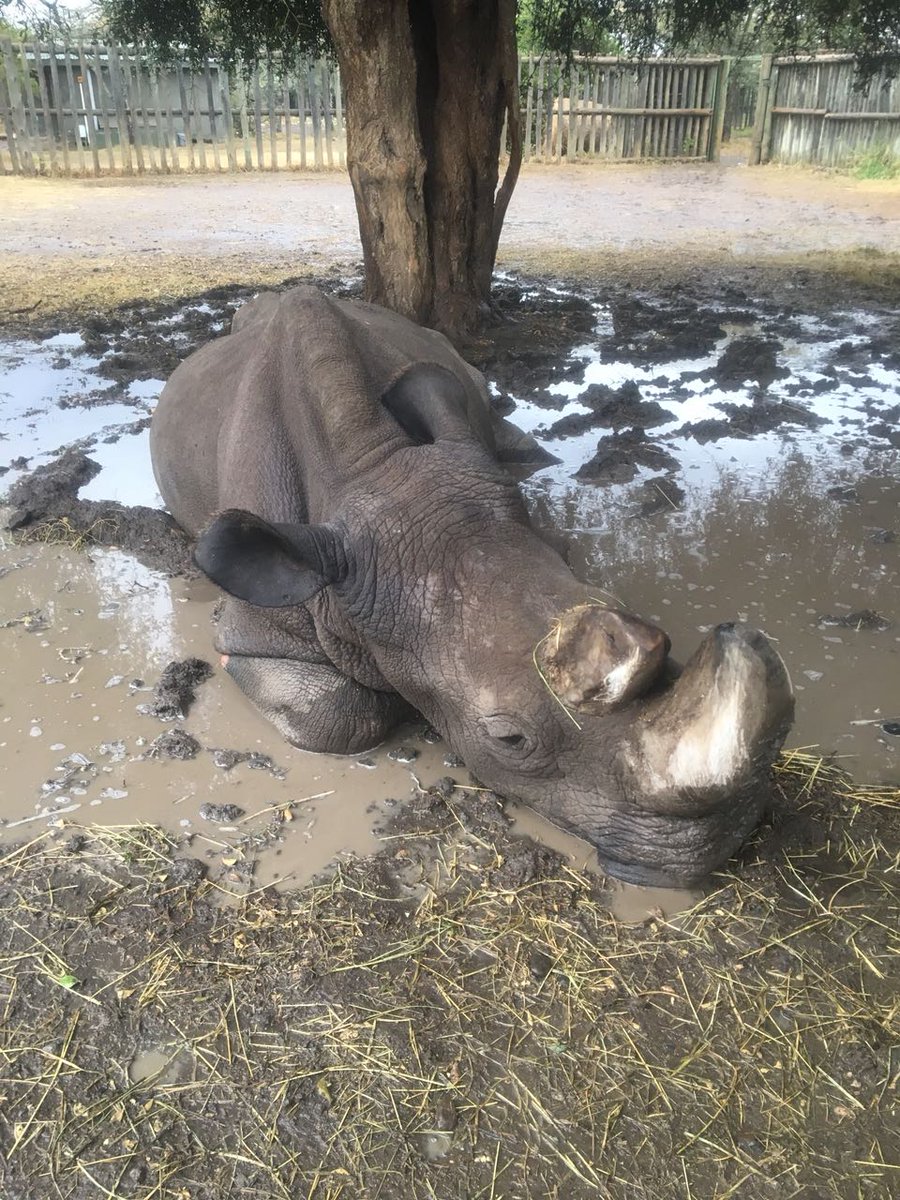 Sudan, the world's last male northern white rhinoceros, died in Kenya Monday ,19th March2018, leaving his species one step closer to complete extinction, even as a group of scientists undertake an unprecedented effort to try to keep this animal from vanishing entirely. Unable to stand, and suffering from a string of infections in his advanced age, the world's last male northern white rhino was euthanized Monday by a veterinary team in Kenya that had fought for years to save him and his dwindling species. Only two now remain — his daughter, Najin, and granddaughter, Fatu — leaving in-vitro fertilization from preserved sperm as the last tool against extinction.
Sudan was born in 1972 in what is now South Sudan at a time when there were still around 1,000 northern white rhinos roaming wild. But their habitat was then, as it remains today, one riven by human conflict. He was 45 years old and his health had deteriorated in recent weeks after a severe leg infection. In a statement, the Ol Pejeta Conservancy said his condition worsened and he was no longer able to stand up, so his veterinary team decided to euthanize him.
Sudan was captured in Sudan in 1975, when he was just two years old, and was taken to Dvůr Králové Zoo in the Czech Republic. But as that zoo fell into financial troubles and rhinos failed to breed, Sudan was relocated in 2009 to the Ol Pejeta Conservancy, in Laikipia County, Kenya, along with two northern white rhino females named Najin and Fatu. The thinking was that in a place closely resembling their homeland, they would thrive. Northern white rhinos used to be found in an area spanning Uganda, Chad, southwestern Sudan, the Central African Republic and the Democratic Republic of the Congo. Some 2,000 existed in 1960, according to the World Wildlife Fund, but war and the poaching that funded the fighting drove them to extinction in the wild.
Joseph Thaida, who took care of Sudan at the conservancy since 2012, remembers him as an affectionate and gentle rhino who had his picture taken with tourists and served as the centerpiece of publicity stunts.
"Whenever he hears people talking, he loves to come close, because he knows he's gonna be scratched," Thaida told NPR last year.

Thaida remembered when Sudan arrived at the conservancy, watching him as he studied the southern white rhinos already there. Sudan learned how to sharpen his horn using a tree. He began to graze and wallow in mud like his genetic cousins.
"We at Ol Pejeta are all saddened by Sudan's death. He was an amazing rhino, a great ambassador for his species, and will be remembered for the work he did to raise awareness globally of the plight facing not only rhinos, but also the many thousands of other species facing extinction as a result of unsustainable human activity," Ol Pejeta Conservancy CEO Richard Vigne said in a statement. "One day, his demise will hopefully be seen as a seminal moment for conservationists worldwide." Sudan spent the last years of his life under 24-hour protection from armed guards.
"Sudan was the last northern white rhino that was born in the wild. His death is a cruel symbol of human disregard for nature and it saddened everyone who knew him," On behalf of the Kampozone family, we send our condolences to the entire  northern white rhinoceros family and Ol Pateja Heritage home.